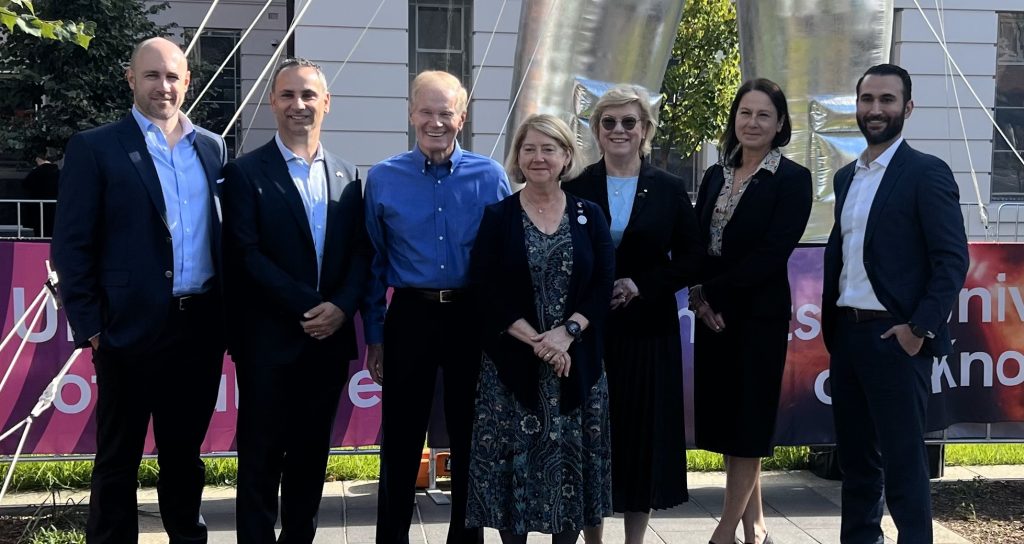 Lunar Outpost and EPE will co-lead their consortium in supporting Australia's first-ever mission to the Moon.
Adelaide, SA – March 20, 2023 – Today, Minister for Industry and Science, the Hon Ed Husic MP, along with dignitaries from the Australian Space Agency and NASA announced the EPE & Lunar Outpost Oceania Consortium as one of two successful groups to receive Stage 1 grant funding from the Australian Government's Moon to Mars Trailblazer Initiative. The project received grant funding from the Australian Government through the Australian Space Agency.
The Consortium will design critical autonomous lunar mobility and excavation solutions for the Trailblazer Initiative. Co-led by EPE and Lunar Outpost Oceania, the Consortium brings U.S.-based Lunar Outpost, a global leader in commercial planetary mobility, with significant experience leading multiple successful cislunar space missions and collaboration with NASA Artemis program, together with Australia's EPE, a Queensland-based SME specialising in robotics, autonomous systems, system integration and translation of technology in collaboration with Research and Defence organisations.
The Moon to Mars Trailblazer Initiative seeks to progress Australian space exploration with remotely operated and autonomous Australian robotic lunar assets. In Stage 1 of the Initiative, the Consortium will focus on the design and development of a lunar rover designed to operate in the Moon's unique environment, leveraging Lunar Outpost's experience and capabilities in autonomous lunar mobility and excavation solutions. The lunar rover will be capable of collection of lunar regolith for delivery to a NASA science in-situ resource utilisation (ISRU) facility. The EPE & Lunar Outpost Oceania Consortium aim to be selected for Stage 2 of the Initiative and delivery by NASA of an Australian lunar rover to the Moon.
Expanding its presence from the U.S. and EU, Lunar Outpost also announced the formation of Melbourne-based Lunar Outpost Oceania (LOOC), a wholly owned subsidiary established to support and accelerate the Australian aerospace industry. LOOC will leverage the knowledge from prior missions while building local Australian expertise to drive a successful Moon to Mars Trailblazer mission and invigorate Australia's emerging space industry, resulting in:
● Creation of highly skilled jobs and economic growth that extends beyond the space sector into energy, mining and agriculture.
● Rapid growth and maturation of Australia's national space capability through important scientific and engineering advancements.
● Formation of bilateral and multilateral public-private collaboration, positioning the space sector as an international front door for civil space activities and partnerships.
● Renewed interest in space for commercial and humanitarian causes, inspiring the future workforce with the future of space travel, habitation and research.
The EPE & Lunar Outpost Oceania Consortium, together with the Australian Space Agency, will connect highly capable and motivated space professionals in Australia with opportunities to leverage leading mining and mineral extraction capabilities. Coupling LOOC's cislunar mobility expertise with EPE's extensive experience in Uncrewed Ground Vehicles (UGV), autonomous operations and sensor integrations will accelerate efforts to take advantage of innovation in the space domain to deliver measurable improvements to Australian national security and the sustainability of the mining industry on Earth.
The EPE & Lunar Outpost Oceania Consortium is fortified with depth and expertise from Consortium Partners. Lead organisations include BHP, Northrop Grumman Australia, RMIT University's Space Industry Hub, and University of Melbourne's Space Laboratory. University of Adelaide, Inovor, Australian National University, Element Robotics, Colorado School of Mines and Saber Astronautics will provide specialist contributions, and Australian Industry Collaborators include Titomic, One Giant Leap, VIPAC and CD3D.
Co-founder and CEO of Lunar Outpost, Mr Justin Cyrus, is excited to partner with co-lead EPE, on the Australian Government-funded project. "With Trailblazer, our consortium will work with the Australian Space Agency to redefine resource extraction and utilisation. Trailblazer is a unique opportunity to not only utilise resources from another planetary body but also to bring that novel technology back here to Earth to guide mining into a carbon-neutral future; all in pursuit of taking mining and heavy industry into space in the years to come."
EPE's Managing Director, Mr Warwick Penrose, said "This is an unparalleled opportunity for the development of sovereign capability in Australia's space industry. Together with co-lead Lunar Outpost, we're excited to contribute to the Initiative our many years of experience testing, deploying and operating UGVs in remote and hostile environments, and leveraging the significant capabilities of our Consortium Partners to help develop a global competitive advantage for Australia within an international space exploration program."
ABOUT LUNAR OUTPOST
Founded in 2017, Lunar Outpost has raised $12 million in funding backed by investors including the Explorer 1 Fund, Promus Ventures, Space Capital, Type One Ventures and Cathexis Ventures. In late 2022 Lunar Outpost announced the development of the commercially funded 15 kg Mobile Autonomous Prospecting Platform (MAPP) rover—including a payload mass allocation for MIT—scheduled for delivery by an Intuitive Machines lander to the lunar South Pole in 2023. The company is currently developing the
20 kg Lunar Vertex MAPP rover for a 2024 NASA-funded science and exploration mission to the equatorial Reiner Gamma site, supported by the NASA Payloads and Research Investigations on the Surface of the Moon (PRISM) program. In addition, Lunar Outpost was recently granted a NASA Lunar Surface Technology Research (LuSTR) award in partnership with the Colorado School of Mines and Michigan Technological University to develop and mature lunar regolith excavation technologies, with an end goal of successful demonstration on the Moon. Lunar Outpost is an industry leader in commercial space robotics, lunar surface mobility, and in-situ resource utilisation. From our terrestrial product lines revolutionising the air quality sector to the creation of oxygen on Mars, their impact spans the solar system. Lunar Outpost's flagship rover, the Mobile Autonomous Prospecting Platform, will be the first commercial rover to the lunar South Pole in 2023. Find out more at: lunaroutpost.com. Follow us on Twitter, LinkedIn, Instagram.
ABOUT EPE
In its 25th year of operation, EPE's purpose is to enable and protect Australians and allies operating in hazardous environments. EPE provides specialist support to government agencies and defence organisations to undertake design and integration activities, and deliver niche capabilities in robotics, sensors and effectors for deployment in hazardous environments. EPE works closely with industry and research and development organisations to develop technology and products for commercialisation, and provides technology verification and validation (V&V) services at its south-east Queensland-based MILTECS facilities (Military Training, Evaluation, Certification and Systems Assurance).
Find out more at: www.epequip.com. Follow us on LinkedIn and Twitter .
Media contacts:
For Australia and Asia Pacific contact Narelle Hoffman, Marketing and Communications Manager, EPE. Phone: +61 (0)402 486 393 or email:
For USA contact Kealy O'Brien, Marketing Manager, Lunar Outpost.
Phone: +1 661 703 0523 Email: