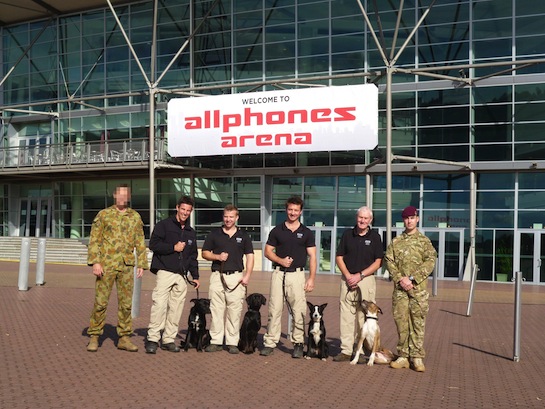 The Australian Army's Explosive Detection Dog capability received a big boost in 2012, courtesy of a successful 12-month K9 training contract delivered by EPE at the School of Military Engineering. Army now has 17 new Explosive Detection Dogs and two new Explosive Detection Dog Trainers.
The EPE team comprised six staff with over 100 years of K9 training and operational experience between them. Four of the staff were highly experienced, former Australian Army Explosive Detection Dog trainers. The other two team members joined us from the UK – one member was a former lead K9 trainer from Surrey Police in the UK, and the other member was a former British Forces' lead K9 capability manager.
The first six months focused on the training of 20 dogs in accordance with the Australian Army's off-lead Explosive Detection Dog competency requirements. The breadth of training included building search, area search, route search, and vehicle search. 11 of the 20 dogs were successfully certified. Most of the unsuccessful dogs were removed during the early stages of training.
The second six months required the EPE team to re-team the 11 certified dogs with their new Army handlers, as well as leading the delivery of the annual Explosive Detection Dog Supervisor's Course. This course produced another six Explosive Detection Dogs, bringing the overall total to 17 new dogs. Many of these Explosive Detection Dogs will serve in Afghanistan.
In addition to training, EPE also provided the Australian Army with new portable K9 kennels and specifically designed K9 handler kits.
EPE is proud to have been an integral part of the Australian Army's effort to reinforce its Explosive Detection Dog capability – a capability which continues to prove its effectiveness and importance, detecting lethal Improvised Explosive Devices in Afghanistan.