The active multi-mode nature of recent terrorist attacks has necessitated a more dynamic response to situations by specialist first responder agencies. In many cases operators may be required to move on foot rather than in vehicles through populated areas and encounter rapidly developing threat situations within a single incident. In these situations it is vital that they can apply their full suite of capability while being able to remain agile and mobile. The EPE Rapid Assessment Package consists of a number of key capabilities packaged to provide portability and ease of use.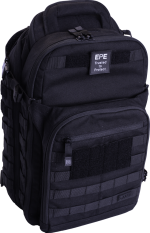 Diagnotics Kit
Portable X-ray has been a sticking point amongst operators for years, the term has been used lightly and often by the time the equipment hits the ground it is either not ruggedised or the associated ancillaries no longer make the system portable. The 2430EOD lightweight panel utilises a direct deposit A-Csl screen and develops 76 micron high definition images. The panel is rated to IPx7 water resistance and drop tested to 1mtr. The system is paired with the Golden XR150 Generator and controlled by a lightweight Panasonic Toughpad FZ-G1. The complete system is housed in a 5.11 All Hazards Pack and weighs in at under 5kg, perfect for Rapid Assessment tasks. The panel's wireless interface is housed within the panel with only the antenna external. The system is supplied with a 25 metre Cat5 cable giving the operator multiple function options.
Remote Observation Kit
The Remote Observation Kit incorporates the NERVA® S compact, robust, two wheeled robotic platform. This capable mobile platform is intuitive and easy to use. The NERVA® S is equipped with one High-Definition camera, one thermal camera and one microphone. The NERVA® S is compact, is powered up in seconds, ultra-robust, shock resistant, waterproof and a versatile system that will ensure mission success.The NERVA® S system features an integrated Front HD Camera 1280 x 720 pixel area and thermal camera enabling the operator to see in total darkness. The NERVA® S is supplied with an ultra ruggedised tablet (FZ-M1), 3 axis joystick, long range radio modules, ergonomic Man-Machine Interface, real time display of video channel. Additional operator control systems are available on request.
First Responder Detection Kit
Today's first responders are faced with numerous challenges. Among these, toxic or harmful environments such as clandestine laboratories or suicide involving TIC, can be encountered, and the ability to react swiftly and decisively in these environments, whilst still remaining protected, is vital. EPE has assembled a kit of the easiest to use, most reliable, fast and accurate detection equipments on the market today to provide first responders with a one-stop go-to package for all their immediate needs when faced with unknown powders, liquids or other substances.
HAL Tactical Kit
The HAL Tactical is based on a trusted technology, reducing its size to make it easier for the mobile operator to deploy with his or her tools down range, reducing their time on target. The HAL Tactical offers modular components that can be either housed in the supplied leg pouch or integrated into a multi-use pack. The components are packaged in unique Modular Equipment Packs, so operators can customise the kits needed for their specific needs and applications.
Enhanced Search Kit
The Enhanced Search Kit includes the complete Tactical Electronics CORE System. Tactical Electronics CORE product line improves the way operators perform tactical inspections by delivering the most advanced cameras, thermal fusion technology, and unsurpassed modularity. CORE features Wireless, High Definition, Digitally Encrypted Cameras and Monitors. The CORE system is completely modular and allows you to attach 4 different camera necks to a CORE Grip or Pole Grip. Video from all CORE cameras is streamed wirelessly (5 GHz) to any CORE monitor over an AES encrypted channel.
Manual Access Kit
The Manual Access Kit allows operators the tools necessary to execute render safe procedures. The modular design allows operators to customise the configuration based on each scenario. The Kit comes complete with six individually populated tool kits. All six tool kits fit into the Mystery Ranch RATS Pack.
Disruption Kit
The Carbon Fire CF10 disruption kit has been carefully designed to include multiple firing configurations with interchangeable projectiles along with dual factory sighted lasers perfect for rapid deployment. The disruptor has been paired with the WISe SC1, a lightweight remote initiation system which offers dual (shock tube and electrical) initiation.