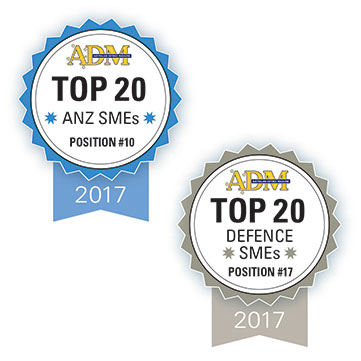 Established Defence Supplier
Austalian Defence Magazine's Top 40 Defence Contractors and Top 20 Defence ANZ SME's provides valuable data for the industry as a whole. It demonstrates the value of the Defence Industry to the Australian economy and each year reiterates that to stay in the Top 20 ranking, ANZ SME's need to be growing and consistently increasing their Defence turnover. EPE has ranked in the Top 20 ANZ SME's for the past 6 years, demonstrating our commitment to the Australian and New Zealand Defence sector.
Australian Trusted Trader
Australian Trusted Trader (ATT) is a Department of Home Affairs Progran which partners with Australian business to secure our borders and facilitate legitimate trade. Accreditation under the ATT Program demonstrates a business is trusted to import and export in Australia.
Continuous Improvement
To ensure a focus on our customers, and consistent and continuous improvement of our processes, EPE operates an AS/NZS ISO 9001:2015 certified Quality Management System for the provision of Counter IED,EOD, and Force Protection Solutions including equipment, design, training and consultancy services.
Ethical & Transparent
TRACE International Inc. (TRACE) has successfully completed a TRACE Standard due diligence review of Zangold Pty Ltd trading as Explosive Protective Equipment (EPE). TRACE has granted Zangold Pty Ltd a certificate of membership signifying the company's commitment to transparency in international commercial transactions.
Defence Reserves Support
All Australians share responsibility for our national security, including a capable and resilient Australian Defence Force with permanent and reserve components. As responsible corporate citizens, we pledge support to our employees who serve our nation as Australian Defence Force Reservists, and to provide the leave required for their service obligations.
Support Defence Network
EPE is a small Australian owned and managed business delivering to ADF and NZDF. EPE is a member of the Australian Industry & Defence Network (AIDN) and New Zealand Defence Industry Association (NZDIA). The AIDN and NZDIA are the peak industry associations for small-to-medium enterprises (SMEs) doing business in the Defence and Security sectors. They provide a comprehensive level of industry support and advocacy.
Qualified Training Team
The EPE team of trainers specialise in both IEDD/EOD and equipment maintenance training. Certificate IV in Training and Assessment qualilfied staff deliver all of our training.
OEM Accredited Repairs & Upgrades
EPE offers a comprehensive analysis, diagnostic and repair service aimed at maintaining a sustainable field capability for the entire equipment life cycle. Our technicians are OEM trained and endorsed with genuine parts support, procedures, software and firmware upgrades utilised throughout the maintenance process. Learn More About Our Maintenance Team.