The active multi-mode nature of recent terrorist attacks has necessitated a more dynamic response to situations by specialist first responder agencies. In many cases operators may be required to move on foot rather than in vehicles through populated areas and encounter rapidly developing threat situations within a single incident. In these situations it is vital that they can apply their full suite of capability while being able to remain agile and mobile. The EPE Rapid Assessment Package, RA TAC II consists of a number of key capabilities packaged to provide portability and ease of use.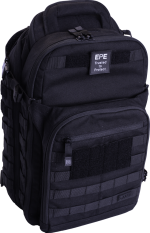 KIT 1
Reconnaissance, Search and Diagnostics includes a DJI Mavic Air with Active Track and Smart Capture offering immediate reconnaissance. The wireless flex camera provides multiple search possibilities along with a rapidly deployable tablet X-ray imager and generator designed for no fuss immediate diagnosis.
Core Flex Camera
The Core Flex is a versatile hand held inspection tool. High Definition, digitally encrypted video captured through a 25cm flex and stay camera neck. Video is streamed wirelessly to the Core Monitor.
Specifications

Wireless video transmission 5 GHz
AES Encryption
High Definition 1280 x 720p colour video
Backlit push buttons

Long wave infrared (LWR) thermal imager
Adjustable high intensity IR LED illumination
Micro SDF card recognising (32 GB)
RTR-5
The RTR-5 Tablet Imager (MMX) utilises a (CR) computed radiography image plate and a unique (DR) digital radiography scanner offering a minimalist compact instant imaging system.
Specifications

Image area: 18 x 23 cm
Overall Dimensions: 20 x 28 x 2 cm
Weight: 1.1 kg

Resolution: 144 DPI or 2.5 lp/mm
Op System: Win XP or higher, Android
XR150
Latest XR150, the new generation of 150kV X-ray Generator with 16 character LCD menu interface.
Specifications

Powered by DeWalt 12v Li-Ion battery
 Pulse setting up to 999 count
Program countdown delay timing

Variable pulse rate (1 pulse per second)
Easy grip with removable handle
6kg, 32% lighter than predecessor
DJI Mavic Air
Ultra portable and foldable drone that features high-end flight performance and functionality, including active track, smart capture and a 3-Axis Gimbal. Features low profile controller and supplied with a dedicated Samsung smart tablet.
Specifications

Ultra light, weighs 430 g
21 min flight time
Max speed of 68 km/hr

Max altitude 500 m
Smart Capture
Tapfly
KIT 2
Semi Remote, Manual Access and Disruption includes two Immediate Action pouches, two 1st Line EOD Kits and a comprehensive Tactical Hook and Line Kit packaged for easy access enabling multiple options on approach. The kit also includes a highly capable lightweight Disruptor and compact RF Initiator to ensure initial success during render safe procedures.
HAL Tactical
A lightweight modular semi remote (HAL) Hook and Line System allowing for excellent mobility, includes the following modules:
Specifications

Line Module
Basic Clamp and Manipulation Module
Anchor Module
Advanced Clamp Module

Basic Reach Module
Guidance Module
Grappling Hook Module
CarbonFire 10 OPS Pack
CarbonFire 10" Disrupter with MagFire Breach Assembly and Water Shot Extension Barrel.
Specifications

Lightweight Tripod
Retaining Parachute

SL-150 Laser Boresighter
AquaForce water shot system
WISe SC1 – Wireless Initiation System
Versatile, robust and portable, the Wise SC1 is a one hand controlled initiation system.
Specifications

No programming required
Factory paired
Ambidextrous one hand controller

DCR – fires Nonel (single or dual)
Tri-mode power options
Immediate Action Pouch
The Immediate Action Pouch provides operators with a capability to take immediate action from a small, lightweight, highly accessible platform.
1st Line Tool Kit
The 1st Line Tool Kit is designed to provide operators with a versatile, lightweight kit that builds upon the capabilities of the Immediate Action Pouch without unnecessary or wasteful redundancy.