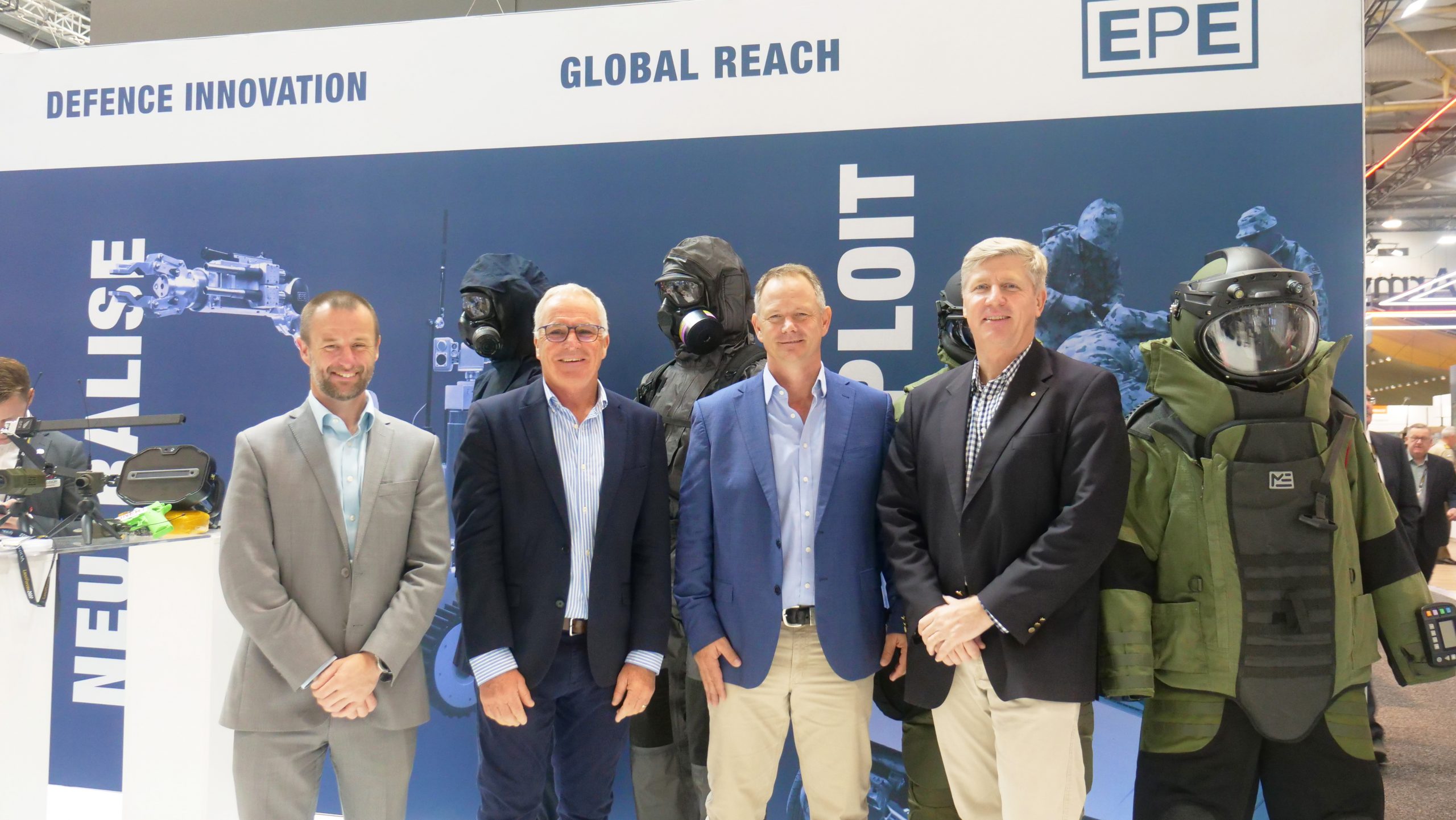 Over the last 12 years EPE has evolved from a small Australian SME Defence business, into a Group of Companies with separate businesses operating in Australia, New Zealand and the United States. The diverse business ranges from delivering an award-winning prime vendor contract to the New Zealand Defence Force, through to lead commercialisation partner working with CSIRO and DSTG to deliver a revolutionary 'Broad Spectrum Respiratory Canister'. EPE will translate this technology to design and advanced manufacture activities for the Australian and international markets. Underpinning EPE's sustained growth is a focus on development and integration of new and emerging technologies that will help Defence become better protected, connected and enabled, to enhance operational outcomes.
Warwick Penrose, Managing Director of the EPE Group of Companies commented "Our purpose is to improve safety and reduce the risk of harm from Explosive, Chemical, Biological, Radiological, Nuclear and other 'Improvised' threats. Robotics and Autonomous Systems (RAS), Artificial Intelligence (AI) and Machine Learning (ML), as well as other technologies that optimise human performance are all core parts of our roadmap. To optimise our operating, growth and investment plans across the EPE Group, our Executive Team has appointed a Board of Advisors to provide independent thought governance."
The Advisory Board is chaired by Chris Otley-Doe and includes Adam Findlay (AO) and Andrew Garth.
Chris previously founded Rubikon which he grew to become a Defence prime vendor, and was Managing Director of Accenture Australia. Chris commented on his role "Relationships are built on trust, loyalty and strong ethical bonds. This is the epitome of EPE which I have known and admired for many years. They have strong bonds with their extensive global supply chain and more importantly the service personnel that are protected by the array of what EPE provides. I'm also attracted by the innovation in a technically challenging environment, with Warwick and his team to be fast adopters of new technology."
Adam comes to EPE with 37 years of military command experience of both conventional and special forces. He brings an exceptional knowledge of the national security environment at the strategic level, as well as close links to a generation of military leaders across the region. His senior appointments include as the Commander of all coalition Special Forces in Iraq that culminated in the liberation of Mosul from ISIS in 2017; and from 2017 to 2020 as Special Operations Commander – Australia (SOCAUST). Adam is now a Professor of Practice in Defence and Regional Security. He is also the Director of the Griffith University Defence Network (GDNet) where he leads a team that links Griffith University's leading researchers and educators with Defence, Defence Industry and other universities to enhance national security capabilities.
In discussing why he welcomed the opportunity to join the EPE advisory board, Adam commented, "As Special Operations Commander I first got to know EPE as a company that was respected for their support, attitude and quality of their equipment that enhanced operational capabilities and protected ADF lives across the CBRNE spectrum. My ongoing interest in EPE is to enhance their development of sovereign national security capabilities to better enable and protect the warfighter. My contribution to EPE will be through linking my deep knowledge of the threat environment and 'user requirement' combined with my detailed understanding of the world-leading foundational scientific research currently being conducted across Australian universities."
Andrew brings diverse leadership experience from both Defence industry and Government. This includes being a key team member that developed the 2016 Defence Industry Policy Statement and then establishing the Centre for Defence Industry Capability (CDIC) which has now transitioned to ODIS.
Throughout Andrew's time in Government and business, he has been extensively involved in guiding hundreds of SMEs through to success and growth in the Defence market. He has firsthand insight into the organisational factors that consistently lead to success, and he is excited to bring this experience to EPE.
Andrew commented "Defence industry makes a significant contribution to Defence capability and the protection of our service men and women. This is absolutely exemplified in the work that EPE undertakes. Critically as EPE grows it's becoming a globally recognised Prime Systems Integrator, bringing together the best of world leading technologies while working with local industry and research organisations to create genuine sovereign industrial capabilities. This outcome is a key objective of industry policy and Defence need."
EPE's Advisory Board has intentionally been structured so EPE can further minimise risk and better meet the protection needs of Australia and our allies.