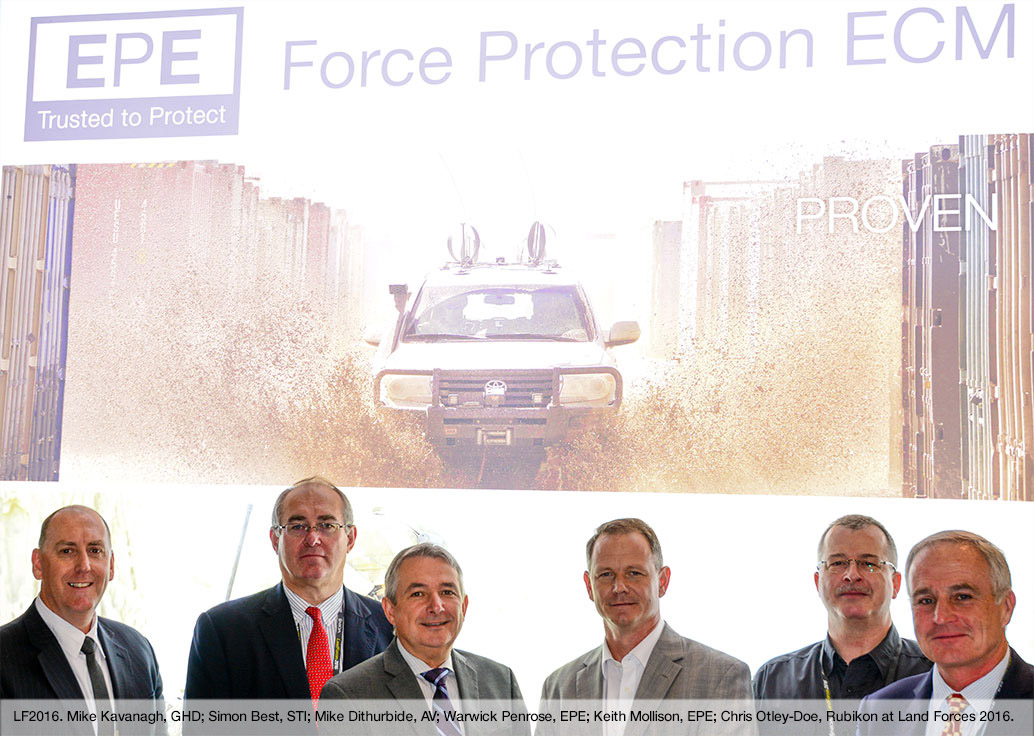 Tri-Lateral agreement promises life-saving technology can be upgraded quickly in Australia to counter the growing use of RCIEDs in Terrorist Incidents, whilst securing high-tech defence jobs in Queensland.

EPE, Allen-Vanguard and Surface Technology International enter into an agreement, in principle, to establish Depot Level Repair, Spiral Upgrade and Advanced Manufacturing capabilities at EPE's Brisbane Facilities to support current and next Generation Force Protection Electronic Counter Measures (FPECM) Systems in Australia..
---
EPE (Brisbane, Australia) is pleased to announce that we are in the final stages of negotiation with Allen Vanguard ("AV", Ottawa, Canada), the manufacturer of market-leading FPECM systems and Surface Technologies International ("STI", Hook, UK) a leading Contract Manufacturer of advanced electronic systems that will lead to the establishment of a full manufacturing, upgrade, and repair capability at our Brisbane facility. This engagement will provide a full repair and overhaul facility as well as future engineering support to the Commonwealth of Australia.
AV has fielded over 16,000 FPECM systems worldwide and currently provides FPECM capability both to the Australian and New Zealand Defence Forces and Law Enforcement Agencies. STI operates as the international Manufacturing Partner to AV and has manufactured over 6,500 FPECM systems on their behalf at their Nadcap-accredited facility in Hook, UK. This new agreement will support EPE in delivering an indigenous capability for depot level repairs and spiral upgrades to AV's existing FPECM Fleet in use by Commonwealth and State Agencies from EPE's Brisbane-based Maintenance Facility. This support package will reduce the cost, time and logistics burdens for these activities whilst securing high-tech defence jobs in the Greater Brisbane area.
STI will conduct a technology transfer and will invest in training new recruits by providing highly trained personnel to augment EPE's core of deployable Field Service Representatives (FSRs) while also providing Quality Assurance support. This agreement will provide significant Through-Life Support cost savings to current clients, and ensures that this life saving FPECM technology can be upgraded quickly in Australia to counter the growing use of Radio Controlled Improvised Explosive Devices (RCIED) in Terrorist Incidents.
EPE and STI will further leverage this capability to assist with the development and commercialisation of other emerging technologies that can be utilised to defeat the threat of terrorist or criminal use of explosives and CBRN materials.
Warwick Penrose, Managing Director of EPE commented: "This agreement will provide the foundation with which Australian Industry can build a long term platform to ensure a fully sovereign FPECM capability for the Australian and New Zealand governments. With the ability to conduct depot level repairs and to provide spiral upgrades into existing FPECM fleets we can ensure that our clients can keep up with the rapidly evolving and expanding use of RCIEDs as terrorist weapons. We are very pleased to have two world leading technology partners supporting us in this goal and are genuinely excited to be able to leverage this capability into the development and commercialisation of other technologies that we feel can make a genuine and enduring difference to defeating terrorist threats."
Simon Best, Managing Director of STI commented: "We are delighted to be a party to this agreement so we can help to expand the coverage of the lifesaving AV FPECM product range and assist in developing sovereign capabilities for the Australian market. We are confident that alongside our partners we will be able to deliver and sustain future ground breaking technologies that will make a difference in protecting lives and defeating the terrorist threat."
Mike Dithurbide, President of Allen-Vanguard commented: "This highlights the importance of the Australian market to AV and our commitment to delivering capability solutions that provide sovereign autonomy and meet the user's needs in protecting the lives of Commonwealth personnel deployed around the world. Having our long term Manufacturing Partner STI aligning so closely with our major Channel Partner EPE is a natural step and is testament to the progressive approach to capability support that EPE has become synonymous with. Reducing the support burden both in time and distance (and inherently cost) will benefit all involved."
---
ABOUT EPE
EPE provides Counter IED and Force Protection solutions and support to Australian and New Zealand Defence Forces, Law Enforcement, and other government agencies. We are former bomb techs and Counter IED specialists with real world operational experience. We understand how Counter IED equipment is used and, more importantly we understand the demands placed on equipment and operators in the current 'high-threat' environments in which they may be deployed. We also understand the demands of the training and preparation required for operations. Our aim is to source the very best range of battle-proven Counter IED equipment to help us deliver to our customers, a comprehensive and sustainable capability to meet evolving threats. We deliver equipment, through life support, training and consultancy.
---
ABOUT ALLEN-VANGUARD
Allen-Vanguard is a leader in providing customized solutions for defeating terrorist and extremist threats, including Radio Controlled IEDs (RCIEDs). Defense Forces, Public Safety & Security agencies around the world trust our world class solutions to provide integrated capabilities to help save lives every day. Users worldwide trust Allen-Vanguard's products for personal protection and to complete their dangerous missions. This battle-proven equipment is developed in close collaboration with end users and is tested to perform as an integrated system in the harshest conditions.
---
ABOUT SURFACE TECHNOLOGY INTERNATIONAL
Surface Technology International is an Electronic Solutions Provider, specialising in contract electronics design and manufacturing for world-leading customers in high reliability industries. We are certified to AS 9100, AS9100 Rev C, ISO 9001, TS 16949, ISO 14001 and OHSAS 18001 standards. Founded in 1989, STI has grown steadily to become a leading player in a number of key industry sectors – especially Aerospace, Defence, Security and Energy – with a customer diversity that ranges across the Automotive, Telecoms, Medical, Satellite and Industrial sectors in both the UK and around the globe. STI offers the complete set of electronics manufacturing solutions – Development, PCB Assembly, Final Assembly, Test and Integration. Based in the UK, our international footprint includes
---
For further information contact:
EPE, Brisbane Australia.  Warwick Penrose, Director.
Mobile: 0412 506 776.  www.epequip.com
AV, Ottawa, Canada.  Bobby Strawbridge, Director Business Development,
Mobile:  +1 613-608-4585. www.allenvanguard.com
STI, Hook, UK.  Simon Best, Group Managing Director.
Mobile:  +44 7769 638991. www.sti-limited.com