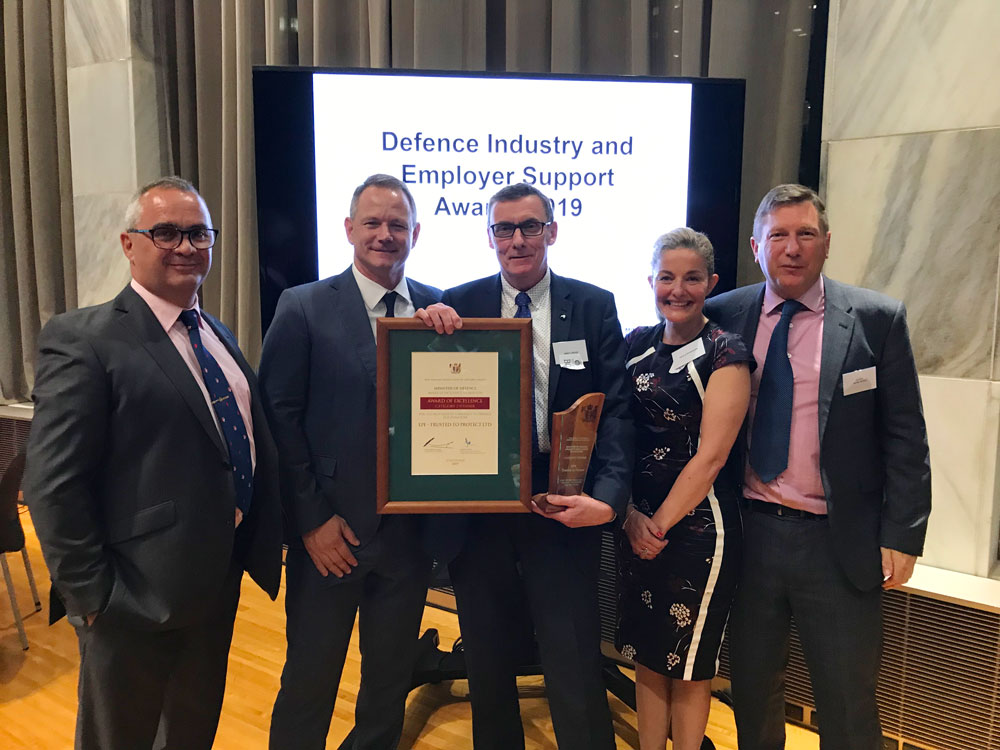 ---
---
ANZ SME EPE wins New Zealand Minister of Defence Award for Excellence.
The 2019 Minister of Defence Awards for Excellence to Industry were presented on 25th November by The Honourable Ron Mark at Parliament House in Wellington, New Zealand.  EPE. Trusted to Protect Ltd won the Award for Category 2: Provision of Product to Defence less than $15 million for delivery of the Counter Explosive Hazards (CEH) Project.
LT COL Adam Modd from the NZDF Capability Branch explained that the "CEH Project is to enable an expeditionary bomb disposal capability for both army and navy. Our personnel are required to go into harm's way to protect people and property, and in doing so we're trying to give them the best protection we can for them to achieve their mission. Working with a Prime Vendor such as EPE has allowed us to buy the right equipment in a timely manner and get it into service to meet the project timelines.'
The CEH Project Manager from the Ministry of Defence, Paula Brasovan commented, "EPE was nominated because of their professionalism, they've gone the extra mile to be able to provide us with the information that we required".
EPE New Zealand Business Development  Manager, Andy Cross said "The Ministry of Defence Project Team working with EPE as a Prime Vendor Industry Partner was able to deliver a capability that is scalable, interoperable, compatible with in-service equipment, with contemporary cutting edge technology, while heading off obsolescence all within a Rapid Procurement."
While EPE Australia has supported NZDF for over ten years, this Project gave EPE the opportunity to establish infrastructure in New Zealand with a NZ company and office with a through life support workshop in the Wellington region, close to the Trentham Military Base.  EPE New Zealand now employs 4 people with reach back to the EPE facility in Brisbane and our global network of Channel Partners.
The Awards were established by the New Zealand Defence Industry Advisory Council (NZDIAC) in 1998 to highlight and reward contributions made by industry to Defence. This year, Awards were presented in the following categories:
Category 1: Provision of a service to Defence less than $15 million
Category 2: Provision of product to Defence less than $15 million
Category 3: Provision of a product or service to Defence in excess of $15 million
Health and Safety Citation: Strongest overall demonstration of excellence in health and safety
Individual Special Award: For outstanding contribution from an individual from Industry to the relationship between Defence and Industry
Company Special Award: For outstanding contribution by a company who has demonstrated a significant contribution to Community and Nation through their relationship with Defence.
ABOUT EPE
EPE provides innovative solutions that protect our customers from an array of current and emerging threats. We are force protection specialists who apply our real-world operational experience to support and protect defence, law enforcement and emergency response personnel. We further leverage this experience to provide solutions to threats faced by industry and critical infrastructure.
Our solutions include: Deployable Infrastructure; Counter Improvised Explosive Device (C-IED); Counter Chemical, Biological, Radiological, Nuclear and Explosive (C-CBRNE); Remote Piloted Aerial Systems (RPAS) and Counter RPAS (C-RPAS); and unmanned systems. These capabilities are optimised through user-focused training combined with Through Life Support (TLS) delivered in operational theatres as well as domestically in Australia and New Zealand
For more information
Contact Narelle Hoffman, Marketing Manager +61 (07) 3308 9300 or email: