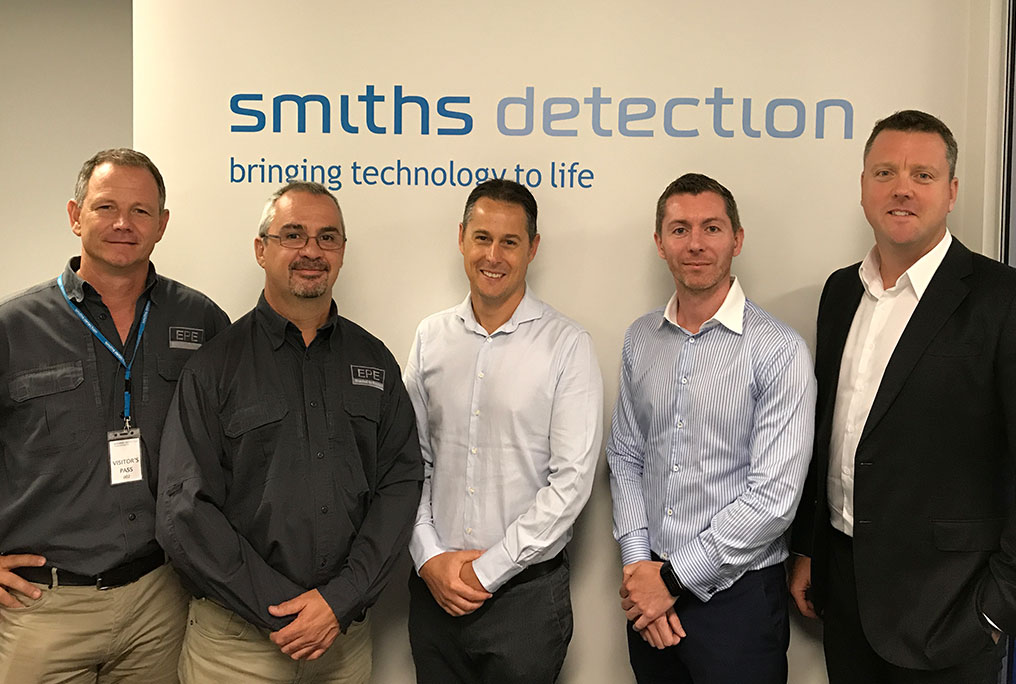 ---
The long-term partnership between Smiths Detection (Australia) and EPE has been expanded, with EPE appointed as exclusive distributor for the Australian and New Zealand Military and First Responder/ Emergency Services markets earlier this year.  EPE has assumed responsibility for marketing, sales and support for all Smiths Man Portable Detection solutions which include Chemical and Radiation Detection and Explosive and Narcotic Detection.
Jordan Thrupp, Managing Director, Australia and New Zealand for Smiths Detection said 'EPE has a solid record of delivering specialised CBRND equipment to both the military and first responder communities, and providing world class equipment training and integrated logistic support for the life of that equipment. As a distributor, we have consistently been impressed by the EPE team's relationship with Defence and First Responder customers and their commitment to providing supported capability that meets  in-service requirements.  EPE has proven to be a trusted partner, providing agile support to customers, rectifying issues promptly with a commitment to ethical business practices.'
'As a global leader in detection technology, Smiths designs and manufactures world class detection technologies which protect our soldiers and emergency service personnel.  EPE is positioned to provide expert advice reinforced by proactive and agile support. Our expert team has extensive real world CBRND experience gained in operational theatres representing military and police agencies in the UK, Australia, NZ and USA.  The EPE Through Life Support (TLS) team is trained and accredited by Smiths enabling equipment training, software and firmware upgrades, repairs and second line support to be provided domestically in Australia and New Zealand', said Warwick Penrose, Managing Director of EPE.
In addition to delivering Through-life Support to Australian Defence Force (ADF) equipment, EPE delivers capability and support to New Zealand Defence Force (NZDF).  EPE has three Master Services Agreements (MSA) with the NZDF supporting EPE provided EOD and IEDD equipment. This includes the provision of Through-life Support to the NZDF diagnostics fleet delivering a high level of reliability to the New Zealand Defence Forces (NZDF) Chemical, Biological, Radiological, Nuclear (CBRN) and Explosive Ordnance Disposal (EOD) diagnostics and detection capability through scheduled maintenance activities.   EPE's technician based in NZ, provides minor maintenance, scheduled servicing, firmware upgrades, confidence testing and technical inspections on NZDF Chemical, Biological, Radiological and Nuclear (CBRN) and EOD capabilities.
EPE also has an Equipment Master Services Agreement in place with NZDF for the Through-life Support pf HDT Deployable Infrastructure systems.  The intent of the contract over a 5 to 15 year period, is to deliver optimal levels of Through-life Support and operational availability, without adding complexity or cost to existing lines of support. The agreement is for all equipment, spares, in-service support, and purchasing of new systems across the NZDF Services. The contract has been negotiated by and will be managed by EPE's New Zealand team.
ABOUT EPE.
EPE provides innovative solutions to protect Military and Emergency Response personnel from current and emerging threats.  We are force protection specialists with real world operational experience. Our solutions include Deployable Infrastructure, Counter Drone, Unmanned Ground Systems, Counter IED (Improvised Explosive Devices, including Radio Controlled Devices), and Chemical, Biological, Radiological and Nuclear Defence (CBRND). EPE balances global reach with local innovation and is establishing advanced manufacturing capacity in Australia to deliver sovereign capability.
For more information
Contact Narelle Hoffman, Marketing and Communications +61 (07) 3308 9300 or email:  or contact Andy Cross, New Zealand Territory Manager .