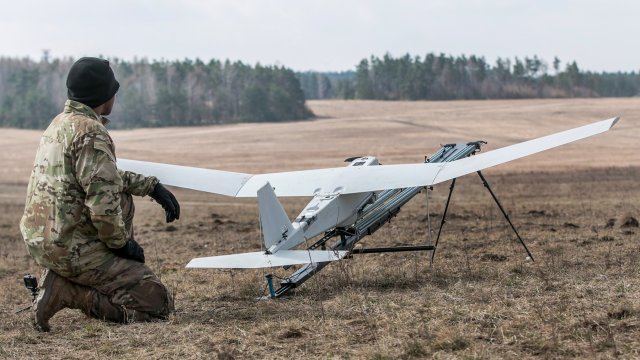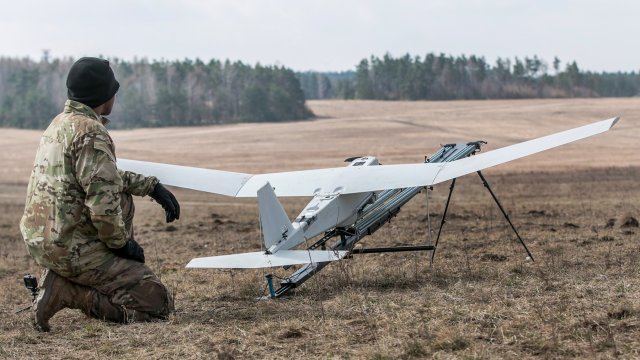 ---
In the fields of Grafenwoehr, Germany, service members from the U.S., the U.K. and other U.S. Department of Defense entities watched as several new unmanned aerial tools were explained and demonstrated during a multinational joint equipment training brief April 2, 2018.
Led by a group of civilians from the U.S. Army Tank Automotive Research, Development and Engineering Center, the training brief served as a precursor to a scheduled Robotic Complex Breach Concept demonstration later this week. That demonstration will see the use of new air and ground equipment for the first time by Soldiers.
The unmanned aerial capabilities on display included the Lethal Miniature Ariel Missile System, Puma, and Instant Eye, which provided Soldiers the ability to evaluate and detect hazards in the training area from a safe distance.
"The aviation assets are invaluable," said Staff Sgt. Brian Logan, a Chemical, Biological, Radiological and Nuclear Specialist. "One of the aviation systems, the Instant Eye, can actually detect hazardous exposure such as chemical or biological threats. The best way to prevent a CBRN injury is avoidance, and that's what these assets allow us to do, avoid unnecessary exposure."
Another aerial asset, the Puma system, is a small unmanned aircraft that gives Soldiers the ability to reconnoiter an area, capture photos and other mission enhancing abilities, without placing individuals in harm's way.
Read full  here: https://www.army.mil