Click here to view video of WA Police disposing of TATP – decked out in gear supplied by EPE.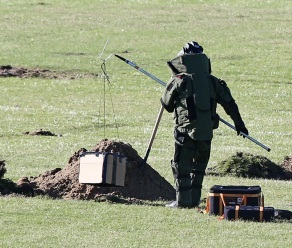 Last week WA Police  searched the Leschenault Estuary near where a member of the public spotted submerged packages on Tuesday afternoon.
It is not known whether the volatile chemicals had been dumped or whether they were being stored in the water in an attempt to keep them stable.  A man apparently spotted a package while fishing off the jetty and alerted police.
Preliminary tests indicated the powder-like substance was illicit drugs.  But when the seized packages were examined more closely, they suspected the substance was something more dangerous.  TATP is a white crystalline powder and can resemble amphetamines.
Authorities realised they had not found drugs but instead a highly volatile bomb and a decision was made to destroy the powdery chemical.  A delicate operation was launched to transport the chemicals to nearby Gloucester Park, where they could be safely disposed of.
Bomb squad officers in protective suits carefully lowered the containers into five separate 2m deep holes and buried them before they were each blown up in a series of controlled explosions.