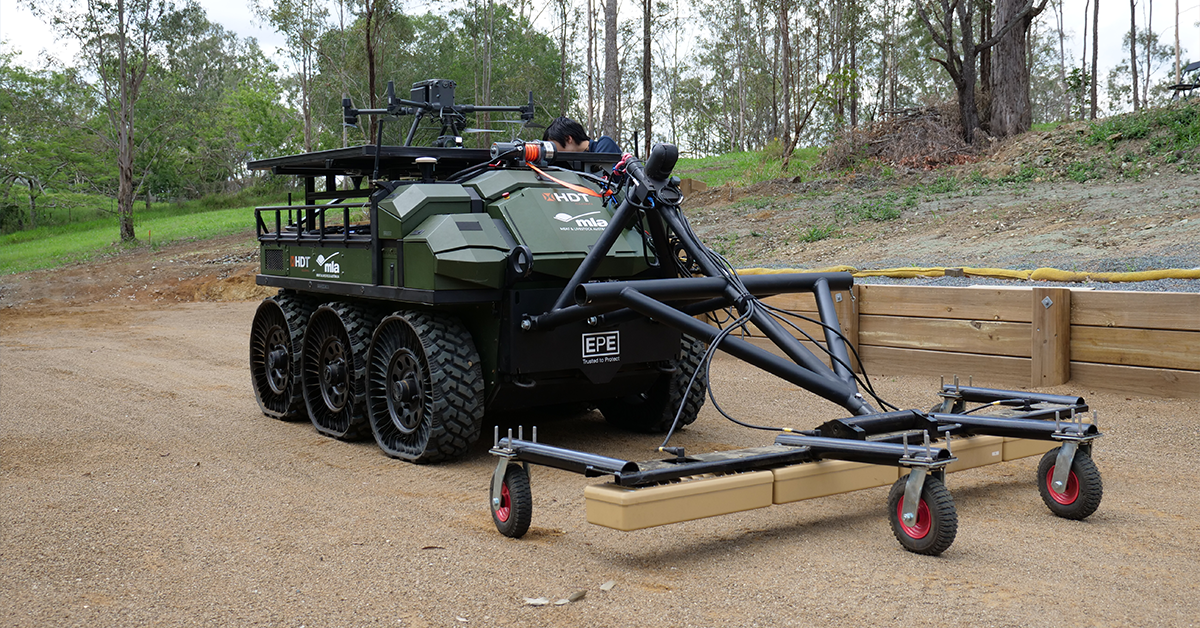 Already delivering leading national defence capability, Queensland is setting itself up as a world leader in autonomous defence systems' innovation and development.
---
As the political environment shifts across the globe, it brings with it new security challenges. Advances in technology are enabling innovation.  Australia's Defence requirements must also adapt.
While robotics and the development of autonomous defence systems are rapidly advancing, Defence specialist EPE is looking to do much more than simply keep up with the rest of the world.
EPE's Director Innovation and Commercialisation, Ben Sorensen, explains that with partners such as CSIRO, the company is working at the forefront of technology to deliver new capabilities for customers.
"We're fortunate, because Queensland has grown some world-leading technology capabilities," Sorensen said.
"Autonomous systems technologies developed right here in Brisbane have been recognised by the US Department of Defense and Defence Primes as some of the best in the world."
With the help of a Sovereign Industrial Capability Priority grant of $1.4 million, the Australian company has delivered a Military Training, Evaluation, Certification and Systems Assurance facility, better known as MILTECS, in South East Queensland.
MILTECS is a specialised unmanned systems training and testing facility just west of Brisbane built to help Defence, Emergency Services, industry and researchers test and build capabilities to counter Chemical, Biological, Radiological and Nuclear (CBRN) and explosive threats in a representative environment.
"It's really about assurance at the end of the day. That what you are developing is fit-for-purpose, that it's going to be safe and it's the sort of thing that we can also adopt and employ as novel capabilities to enable warfighters and emergency responders.
"Our customers and our partners are all focused on cutting-edge technology and working in environments which are extremely challenging. I certainly think that our technology and our partnerships are really pushing that edge out further.
"Our innovation work is focused on enabling and protecting people in dangerous environments. We've been doing work integrating sensors, and autonomy capabilities with tracked, wheeled, legged and flying robotic platforms."
EPE's MILTECS Manager, Dean Beaumont, says the MILTECS sites located in Queensland's south east corner, at CSIRO's Queensland Centre for Advanced Technologies at Pullenvale and Helidon are supporting the development of human-machine teaming.
"We've really seen a dramatic increase in the practical testing and validation of UGVs and UAVs over the past 6 months, compared to recent years," Beaumont said.
"Current world events are probably supporting this growth in interest and innovation, as is the need for commercial organisations to explore new ways to use robotics to enable people and keep them safe in potentially dangerous environments."
Beaumont says the location of MILTECS is a factor in its current and future success.
"With Defence, we have bases at Amberley and Enoggera that geographically suit our location. Brisbane based Emergency Services and commercial primes are also located in close proximity to the MILTECS sites, ensuring easy access to the purpose built facilities.
"There hasn't been a lot of red tape to set our facilities up in accordance with Queensland and Commonwealth Government requirements and legislation. We have been able to achieve all of our planned outcomes."
Sorensen agrees.
"The south east corner of Queensland is the centre of gravity for robotics and autonomy in the country.
"There's a critical mass of Research and Industry working together, and that seems to have created some good conditions for growth in this area."
He says that the importance of State Government strategic policy as an enabler to allow industries to support growth shouldn't be downplayed.
"We know support for Defence and Defence Industry is central to the Queensland Government policy, and that supports us to do our work."
This alignment with the Defence Industries 10-year Roadmap and Action Plan reinforces the value of the strategic vision of the Queensland Government to support the growth of the defence industry.
EPE isn't alone in autonomous defence development in Queensland.
Cloncurry, in the state's west, is home to the Queensland Flight Test Range – Australia's first commercial testing facility for uncrewed aerial systems. This facility enables industry to undertake testing and evaluation of new platforms and payloads, a critical requirement to Australia achieving sovereign capability.
Queensland is also home to the $50 million Trusted Autonomous Systems Defence Cooperative Research Centre, which is driving the development of game-changing drone and robotics technology for the Australian Defence Force, and enabling greater insights into the assurance processes necessary to ensure the safe application of new such technologies.
Additionally, the Queensland Government in partnership with the Australian Institute of Marine Science (AIMS) is funding the extension of a unique marine technology testing infrastructure and capability to support autonomous maritime (surface and underwater) systems at different levels of technology readiness. In May this year, the tropical marine test range, known as Reefworks, hosted elements of Navy's Autonomous Warrior exercise, with Australian designed and built uncrewed vessels controlled from Navy's Autonomous Warrior command centre in Jervis Bay.
The State Government also attracted Boeing Defence Australia to headquarter in Queensland along with its subsidiary Insitu Pacific.
In 2022, Insitu Pacific was selected to deliver 24 'Integrator' tactical uncrewed aerial systems (UAS) under Land 129 phase 3 to the Australian Army, estimated to be worth approximately $307 million. The platforms are set to be manufactured from the company's facility in Brisbane, with delivery expected in 2023 and 2024.
EPE also partnered with Insitu Pacific, Urban Circus and Downer to make up the all-Queensland Muskito Team which delivered to the Defence Innovation Hub a technology demonstrator for unmanned CIED route clearance and route proving, through detection, discrimination, location and reporting to provide timely, accurate tactical decision-making.
The State's proximity to the Indo-Asia-Pacific region and its long history of military presence, makes it ideally placed to work with Defence industries to promote security and stability in the region and strengthen sovereign capabilities.
"Government has recognised that the capabilities that we're developing at EPE and at MILTECS are sovereign capabilities" Sorensen said.
"We're working to develop human and autonomous systems capability and capacity, and commercial opportunities to supply the ADF and export markets."
EPE's MILTECS builds on Queensland's track record in delivering the most advanced, large-scale military manufacturing projects including vehicles and munitions, as well as research capability, skills, facilities and supply chains ready for service.
Acknowledgement Defence Connect: https://www.defenceconnect.com.au/key-enablers/10580-queensland-leading-the-way-in-autonomous-defence-systems