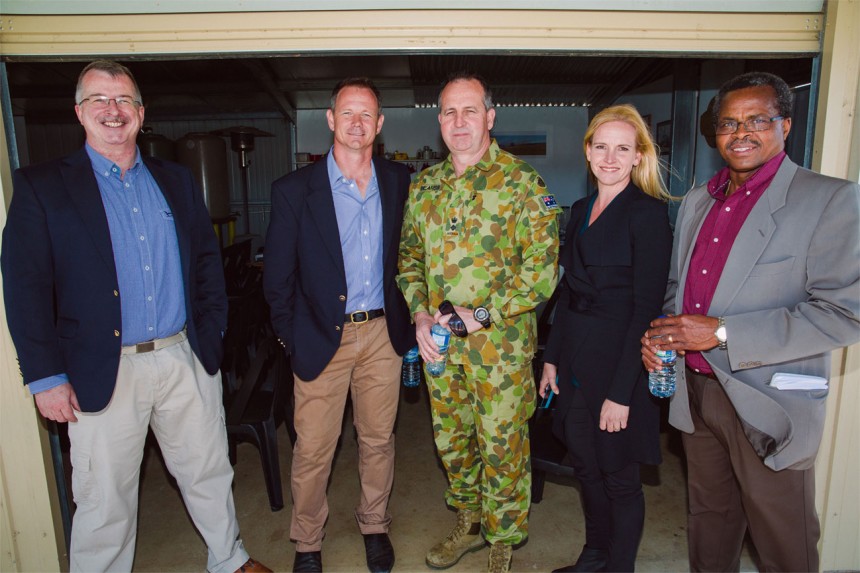 On October 1st, EPE hosted representatives from RPDE, DFAT, Defence, police, AG's   in Canberra, the "Man out of the Danger Zone" capability demonstration day.
EPE brought together a team of international subject matter experts to showcase the latest Unmanned Systems (UAS/UGV) but also to demonstrate how they can be applied for All Hazards (CBRNE / TIC/TIM /Narcotic) detection and enhance ISR.
On the day we showcased the following technologies:
Instant Eye UAS: InstantEye is a high-performance, low-cost aerial system that can be hand launched/recovered by a single person in any weather. The vehicle weighs less than 500g and can go from a stowed configuration to airborne in under 30 seconds. Our presentation showed how this capability can be employed to enhance Tactical ISR, as well as Chemical / Radiological / Gunshot detection and Harris Radio retrains.
CBRN Talon: This fast and mobile robot capable of climbing stairs, negotiating rock piles, and traveling through water, sand and snow can also be used to detect, excavate then neutralise CBRNE threats. In Canberra, We presented the capability of our robot integrated with a full suite of CBRN Sensors (and Heavy Lift Arm)
Portable Raman Improvised Explosives Detector (PRIED): We also < demonstrated how the PRIED, an advanced mobile chemical detection system, can be employed to provide a multi spectrum Stand Off detection.
Scimitar Tactical: SCIMITAR is a real time Command and Control (C2) System which provides commanders on the ground better situational awareness. It is a wireless LOS/NLOS information collection and fusion tool as well as providing mission and training analysis, and intelligence gathering. EPE's own Mission and Training Analysis capability has been captured and fused the data feeds live and provided copies for future review.
Our International Guest Speakers recognised as industry leaders in their fields, provided a brief on their respective capabilities and how they are currently being employed to support Coalition forces currently deployed.
EPE would like to sincerely thank our Guest speakers for sharing their priceless experience and expertise about all hazard detection.
Chuck Waggoner (Colonel Rtd): Director Deployments, Alakai Defence Systems, former Commander Task Force Paladin
Nathan Desmeule: Director BD, Land Systems, QinetiQ North America (QNA)
Tom Schmit: Senior Scientist, UAS Sensor fusion, PSI Corp